Drilling Performance and Improvement Services
Oil and Gas Operators are faced with the challenge of delivering wells efficiently in spite of increasing well complexities, unconventional and less accessible hydrocarbon reserves, factors, which, all put together, lead to increased non-productive time (NPT) and associated trouble costs.
Best performing operators (Top Quartile) report average NPT of 10 – 15% of overall well construction time An enabler towards creating a step change that drives Non-productive time reduction and associated trouble cost is the introduction and entrenchment of a performance culture within well delivery teams.
Ofserv offers Drilling Performance Services in support of client's Drilling operations, addressing in a very practical way, a significant challenge faced by operators either planning or having on-going drilling activities. It offers a proven, cost effective & efficient solution to drive drilling performance while reducing drilling costs. Our team is comprised of professionals having the domain expertise required to deliver world-class drilling performance solutions.
We partner with clients to implement Drilling Performance Consulting, encompassing business process improvement services, such as internal and external benchmarking studies, performance optimization, crew engagement & coaching, failure/trouble analysis, and Lessons Learned Management etc.
Ofserv proposes to provide resident performance improvement consultants with permanent rigsite and office coverage, who bring a unique combination of drilling domain expertise and outside consulting and coaching skills to compliment the drilling teams. While Drilling Engineers continue to focus on the technical aspects of the drilling operation, Ofserv consultants will focus on introducing, fostering and driving performance within the drilling teams by executing the various elements of the Ofserv Drilling Performance & Measurement Services (DPAMS), a model, underpinned by "Technical Limit Drilling" principles.
Technical Limit Drilling process strives towards achieving optimum performance in all phases of the drilling operation, using the best possible people, planning and technology while challenging existing practices.
Potential gains are apparent where a 50% reduction in NPT (e.g. reducing from 30% to 15%) translates to a net savings of 15% in rig time and cost. As NPT reduction stacks up over multiple rigs, there comes a time where these performance gains would give an operator an extra rig free of cost.
Ofserv Drilling Performance and Monitoring - DPAMS
Our Drilling Performance and Measurement Services (DPAMS) model is geared towards unlocking hidden value within our client's drilling teams. This is achieved via the strategic integration of technology, robust processes and engaged personnel in a coordinated, sustainable program.
DPAMS encompasses a portfolio of strategic and tactical assessment and implementation activities overarched by the critical step of leadership enrolment within a 4-phase structure.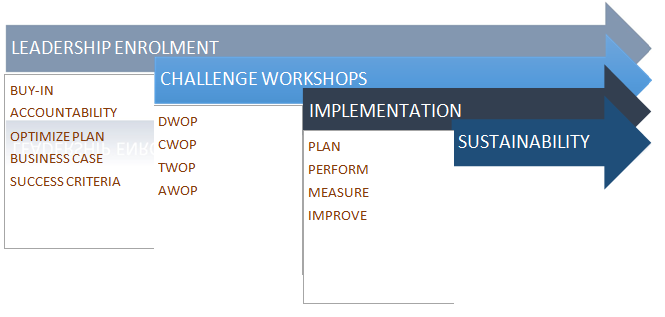 Ofserv DPAMS Methodology
Leadership Enrolment
The high-level business case for the program is determined through internal benchmarking and gap analysis, which identifies current state while qualifying and quantifying the improvement opportunities and the cost - benefit to closing identified gaps. This is carried out at the Leadership Enrolment phase of the program. With the Business case established and action plan developed, we work with the client leadership to take ownership of the process, clarify accountabilities as well as supportive behaviours critical to the success of the process.
Challenge Workshops
The overview of the upcoming well program is presented at a facilitated pre-spud or pre-activity workshop where a challenge culture is introduced and DPAMS process is formally launched and its connection to safety outlined. Opportunities to optimize the well program at both the pre drill as well as the operational stage of the well are encouraged. Operator, rig crew and service company personnel are engaged in a highly collaborative session designed to utilize the expertise of everyone in the room. Every individual connected with the planned well is helped to see how critical his or her role is to the success of the upcoming operation.
The well program is broken down into discrete activities for easier challenge and analysis. Activities are challenged for latent risks, while technical limit opportunities and risk mitigating factors are discussed and agreed. At the conclusion of the challenge session, target times are set and incorporated into the well program. Each group representative presents his or her updated program and new target times set. Ofserv Performance Engineer is introduced for the first time to all stakeholders who takes final responsibility for collating all the various group's input into the well program and ensure that any lesson learned from discussion is incorporated within the program and a budding lessons learned register.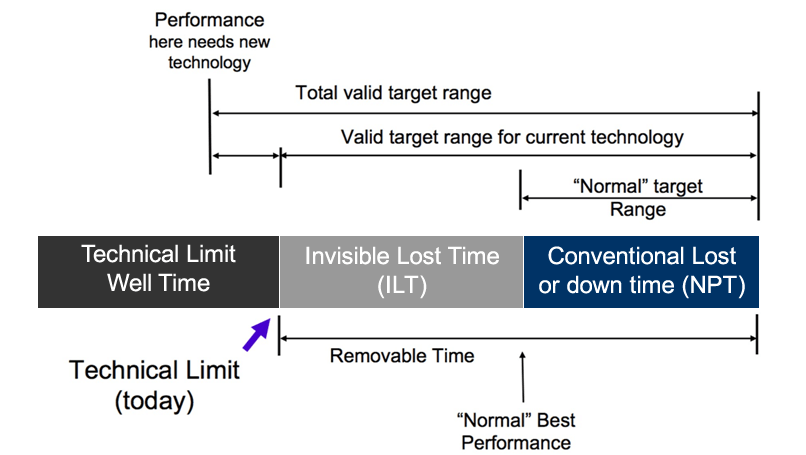 Technical Limit Concept
Implementation
This is the phase where our Performance Engineers begin to perform tactical tasks of implementing the well program from a performance standpoint. They work side-by-side with the rig leadership as well as rig crew and service company personnel. They begin to actively promote a continuous improvement and performance culture and embedding the DPAMS planning, performing, measuring and learning ethos. The phase consists of 4 iterative steps as follows:
PLAN-PERFORM-MEASURE-IMPROVE
PLAN
Planning meetings are held prior to commencing each phase of the well with participation from all involved contractors. Final program (output) from the
Challenge workshop & lessons learned register is the input to these meetings.
PERFORM
This is the step where the next 12 hours of operations is reviewed and lessons learned are revisited as well as any opportunity to improve the efficiency of the planned activities discussed. Look-ahead actions and target are set for the activity to be performed.
MEASURE
This is a critical step where actual versus planned performance for activities in the previous phase are being recorded, analysed and tracked for further benchmarking and reporting. Performance metrics are posted daily and shared with rig personnel. Variance logs are developed to compare actual, technical limit, AFE & BIC performance to facilitate further performance variance analysis and identify improvement opportunities. Input indicators for agreed key success factors are managed and reported according to agreed communication plan. This is typically in form of a value report published by the rigsite Performance Engineers, where among others; the quantified benefit of the process is reported and shared with the drilling team leadership.
Examples of metrics tracked and reported
• Non productive time (NPT)
• Invisible lost time (ILT)
• Feet/meters per day
• Days per 10K
• Flat time
• Rig moves
• Realized value of "lessons learned"
• Cost under AFE
• Time under AFE
• Riser running speed
• BOP test times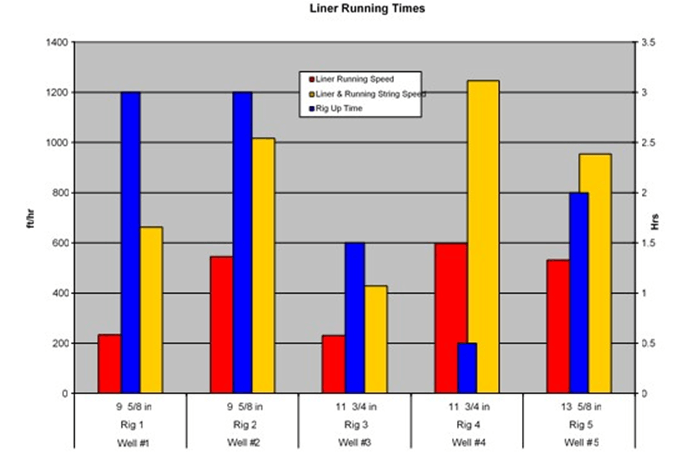 Performance data used for benchmarking and further performance optimization initiatives
IMPROVE
The Improve phase involves the facilitation of learning from every of the previous phases and the distillation and cascading of same, within the relevant onshore and offshore based drilling team members. Lessons must be captured and incorporated in existing Lessons Learned register started at the Challenge workshops and be validated by relevant technical authorities and fed into the go forward plan for future activities. The Performance Coach is responsible for driving this process with rigor, quantifying the value of lessons learned and reporting same on Value reports and other scorecards / dashboards. Best
Practices (practices worth replicating) are captured and documented to be fed into the future drilling programs. Task specific learning is captured for adoption in upcoming, similar activities within the same well.
Sustainability
Our goal on any project is to identify the exit path and agree upfront with the client the timing and strategy for disengagement and process sustainability.
DPAMS is unique in its ability to be tailored to the client's unique needs and helps both customers who need to build a performance optimization program from the ground up as well as those needing to enhance and focus performance improvement initiatives in order to realize optimum value from their existing programs.
Typical Results
Our proven approach to Drilling Performance consistently delivers sustainable business results placing some of our clients on the way towards Top Quartile performance.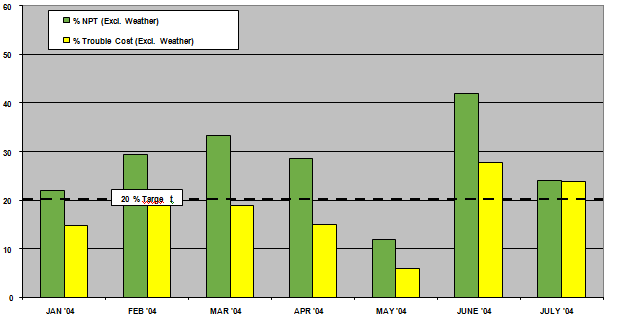 Example Client Results